Storage Has Evolved Beyond File Cabinets
Proper application and selection of storage products can provide a wide range of benefits ranging from accessing information more efficiently to reducing lease space requirements.
With the trend toward digitizing the office, use of the traditional office file cabinet is giving way to reconfigurable file cabinet systems and a different way of thinking regarding how and where office filing is placed in work areas.
Additionally companies are gaining more employee work efficiencies by creating centralized storage and teaming areas in their workspace. By creating centralized storage areas for teams, these workers not only have shared records that are more efficient, but also have easily accessible meeting spaces that replace the need for using a conference room. Now meetings that used to take 30 minutes are reduced to quick 2-5 minute discussions with all the records right at hand.
Some companies need to think beyond simple office file cabinets. Today, storage solutions, such as high density track storage systems, can reduce the amount of lease space needed to store documents by up to 50%.
Selecting the correct storage components can reduce square footage needed in a lease, and even increase employee efficiency. Schedule a showroom tour and experience first hand the impact that efficient filing can have on your business.
File Cabinets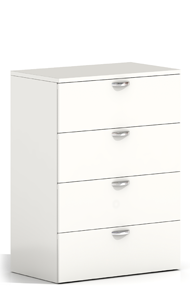 Office file cabinets, as with most other furnishings for the work place, have evolved to become more flexible, more efficient and more accommodating of changes in document needs. We offer standard office file cabinets including vertical and lateral files. Also offered is Herman Miller's unique Meridian modular/stackable filing and storage system.

Storage Cabinets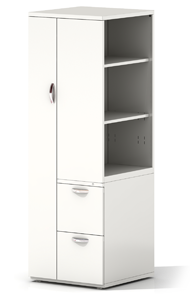 The workplace today requires a variety of new storage products to accommodate and organize reference materials, marketing materials, samples and personal effects. From basic bookcases to "personal towers" which incorporate book storage, personal effects, file storage, miscellaneous storage drawers and coat storage all in one cabinet.

Shelving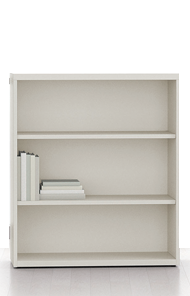 Whether you are a law firm or university requiring substantial library shelving or simply need basic storeroom shelving, we have the solution for you. Our products range from beautiful wood shelving to basic metal shelving and everything in between. With an array of options, we can find the right one for you.

High Density and Moveable Storage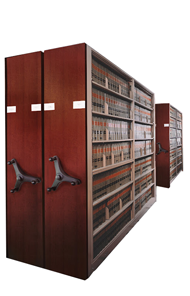 For those requiring heavy storage with efficient accessibility, high density and moveable storage may be a cost effective solution for you. Our consultants can demonstrate the significant space saving advantages of this solution. Corporate records, museum artifacts, sports equipment, medical supplies and even governmental munitions and weapons secure storage, J.Tyler has multiple solutions.