Cubicles Affect Profitability
Cubicles, modular furniture, workstations, systems furniture, and benching are all terms used to describe the office furniture used in open work spaces. They consist of panels, storage components, work surfaces, paper management accessories, electrical components and many other pieces which are used to divide space in offices and workplaces and provide all the necessary work space for the users.
When it comes to selecting the right cubicles and designing a layout that maximizes the potential for your workplace "one size does not fit all". Your primary focus for this should be your employee productivity, which directly impacts your profitability. Beyond this there are other considerations such as crafting a workspace that is adaptable to your market's technological and operational changes and creating areas that assist in recruiting and retaining talented personnel, all of which have an impact on your profitability.
Office cubicle shopping is a great deal more complex and a more important decision than most people realize. Our team of registered designers, project managers and account managers will guide you through the necessary decisions; educating you along the way and helping you develop your optimum workspace design. We will discover whether your organization's best solution is to use cubicle walls for privacy, apply more of an open configuration to increase collaboration, or implement cutting edge benching products to enable rapid communication among a work team.
The objective is for your company's team members to perform tasks more efficiently, have a healthy motivating work environment, allow you to integrate and utilize new forms of technology, allow the workspace to adapt to change easily and economically and even enable you to use less floor space and lower your facilities costs.
Proper planning and selection of office cubicles in conjunction with other appropriate workplace furnishings can make your company more profitable.
Schedule a showroom tour and explore the options and advantages of our cubicle systems.
Panel Systems

We offer a wide range of solutions in panel systems for your office cubicle needs. As an authorized Herman Miller dealer, we have a variety of solutions for your organization that vary in functionality, price point and aesthetic objectives. We offer solutions using the worlds leading panel systems from Herman Miller including Action Office, Canvas, Resolve, Ethospace and My Studio.

Call Center Systems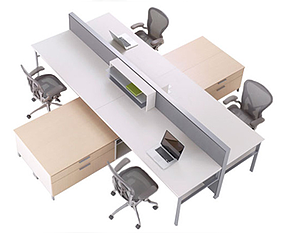 Call centers are unique work environments. Call center applications are implemented when activities include outgoing marketing calls, collections, survey groups or they may be for incoming calls such as help desks, order entry services and technical support. All are generally highly collaborative, require continual access to supervisors and managers, are densely populated, carry their own set of ergonomic and functional challenges and require heavy sound control and varying degrees of visual privacy and storage. Cutting edge cubicle products, sound masking systems, and the latest designs in ergonomic tools enable us to assist you in determining the ideal design and configuration that will produce the best results.

Benching Systems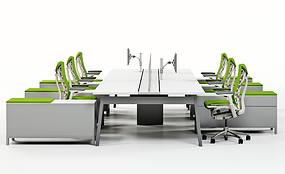 Benching systems have recently evolved as cost effective design solutions for many work intensive, highly interactive and collaborative work environments. Without the use of panels they consist of table systems that incorporate voice, data and electrical capability into a compact open work environment. Benching is frequently used in work environments such as energy trading operations, brokerage operations, auditing areas, order processing teams, touchdown stations in healthcare or hoteling operations and student study applications in higher education. J.Tyler offers a variety of specialized products in varying price points, aesthetics and capabilities to meet specific customer needs.