Ergonomic Products Offer ROI
You may be surprised to know that proper ergonomic products for your employees can produce impressive results that will drive profit. How do ergonomic products make your business more profitable?
There are three main areas. They are comfort, efficiency, & reduced downtime.
1. Comfort
A properly outfitted workplace will increase the comfort of the worker while doing routine tasks. This increased comfort allows them to perform for longer periods of time between breaks. If you can make a worker more comfortable, it is reasonable to assume that they could perform for 20 minutes longer per day (10 more minutes in the morning, and 10 in the afternoon). What kind of a return would you receive if every employee in your office worked for 20 minutes more per day?
2. Efficiency
Today's worker is required to be a master multi-tasker. As office technology has advanced, the work environment has become more cluttered with the technological tools that are required to perform daily tasks.
Ergonomic products cut through the clutter and allow workers to manage their technology components (computer, laptop, monitor, keyboard, mouse, tablet, office phone, cell phone, etc.) without having to reorganize their desk every time they switch tasks. The increase in effectiveness throughout the day makes each worker more effective and makes your company more profitable.
3. Reduced Downtime
Workers are the single most expensive (and valuable) component to any organization. Protecting the health and safety of workers is a worthy investment. The technology driven workplace has resulted in an increase in health-related employee absenteeism.
Repetitive motion traumas, carpal tunnel syndrome, back injuries, chronic back pain, and migraine headaches can all be reduced with the implementation of proper ergonomic products. A small reduction in absenteeism can have a significant effect on your bottom line.
Ergonomic products are tools that support personnel in performing their tasks and should be given serious consideration. The three most significant ergonomic products are task chairs, keyboard trays and monitor arms. Much as a stool with three legs, these three elements depend on each other to provide the greatest impact on productivity.
Schedule a showroom tour and experience the difference that proper ergonomics can make.
High Performance Ergonomic Task Chairs
True high performance ergonomic seating requires uncompromising design and easily adjustable features to fit the needs of the worker. Height, seat depth, and arm height adjustment allow the user to set a chair to their body measurements and will maximize the blood flow to their limbs. Tension adjustment on the tilting mechanism encourages activity. Adjustable lumbar supports and breathable materials encourage proper posture and alleviate the buildup of body heat. There are many options and variations to consider when selecting chairs. Let our experienced team walk you through the options.


Keyboard Trays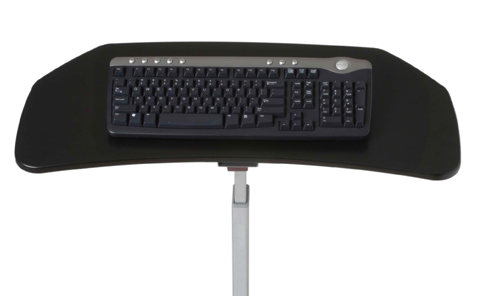 The job of the keyboard tray is to remove the keyboard and mouse from the work surface and bring it closer and in a better position to the worker. A quality keyboard tray should be fully articulating, allow neutral to negative tilt (never positive tilt), adjust in height by a simple lift and lock movement, have an adjustable mouse pad and accommodate your computer keyboard in a secure and comfortable manner. Visit our showroom to learn the proper use of a keyboard tray and why it is an essential tool for your healthy workspace.



Monitor Arms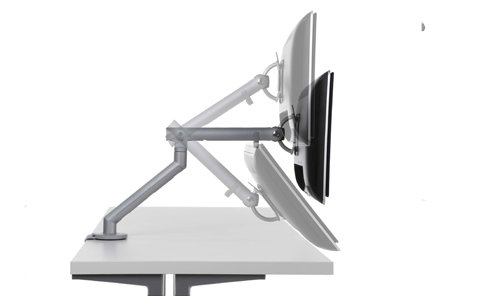 The purpose of the monitor arm is to make the monitor easily adjustable for the user and remove it from the worksurface. By using a monitor arm you increase your usable worksurface enabling you to use it for paperwork, writing and reading materials. It also allows the positioning and adjustment of your screen and adding and stacking multiple screens in a manner that is more comfortable and functional. As an added benefit, this tool allows you the flexibility to reduce the overall footprint of workstations without sacrificing their functional workspace. Efficiency and healthier task performance lead to more productivity and more profitability.



Ergonomic Tables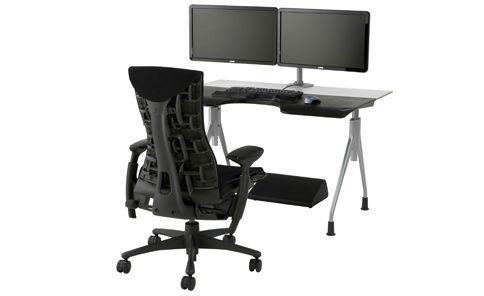 More organizations are discovering the benefits of tables designed with inherent capabilities to support the ergonomic functional needs of the user. In certain work environments, such as engineering firms or seismic companies, where a user alternates from a standard desk-height seated position to an impromptu meeting standing around their worksurface, an adjustable height table is an essential tool. Ask about Herman Miller's Evolve tables with sliding flexible surfaces that enable the entire table top to function as a keyboard tray surface and arm support.



Lighting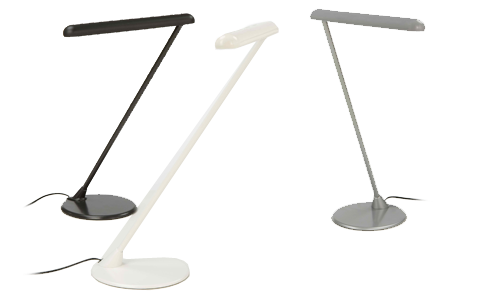 Lighting in the work environment is changing significantly...for the better. Undershelf fixed fluorescent lighting has now been replaced with low voltage movable desk lamps. These new lights produce a higher quality of task lighting with considerably less energy consumption, virtually no heat contribution and allow the user to position and move the light when and where they need it. Additionally, there are a variety of other low voltage LED fixtures available in thinline designs with magnetic attachment that can be linked together in a series and have motion sensors to turn lights off when not in use.



Paper Management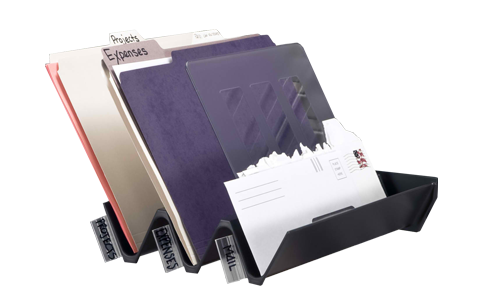 Workers today do not file, they pile. With the office moving more toward paperless records the typical challenge in one's work station is managing worksurface clutter. Replacing overhead cabinets designed for binder and book storage are new paper management tools which can attach to panels or mount to worksurfaces and accept a variety of storage accessories. Paper management is becoming another essential work tool that supports the ergonomic elements that save space and improve productivity.