Beyond the Office Desk
Office desks are generally the first thing that comes to mind as people contemplate private individual work spaces; however, there is a great deal more to understand, and products to consider which can have a direct impact on attaining an efficient, comfortable, adaptable private office.
The traditional "office desk" is becoming a thing of the past....if you know what your product options are in today's work arena. With the evolution of the office environment, so too has the office desk evolved. The old fashioned desk has become completely modular parts that can be assembled to accommodate infinite functional needs, quality levels, price points and aesthetic objectives.
With rapidly changing trends in office technology and demands in adapting work environments such as increased collaboration, huddle space, client initiatives to reduce lease space and the rush to create healthy sustainable work environments, selection of an office desk has given way to use of modular furniture desking systems that allow complete solutions.
Think about it. Do you really use your file drawers for files or for storing lunches, snacks, purses and cell phone chargers? Do you use your overhead storage cabinets for books and binders or for piling papers, folders and junk mail? Do you have any convenient way to manage your Blackberry/iPhone, tablet, notebook computer, telephone and the other technology tools that are required for your daily work?
Traditional office desks have given way to totally new desking products. Selecting the appropriate furnishings will make you more profitable by increasing worker productivity and comfort.
Schedule a showroom tour to experience the wide array of options that are available in your private offices.
Contemporary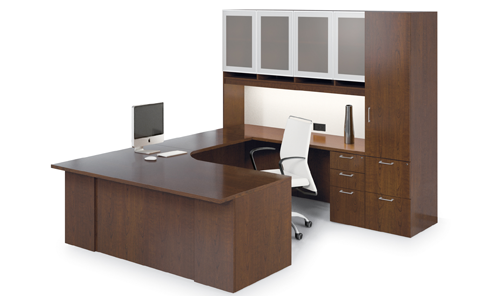 There are many manufacturers of desking products offering varying styles, functional abilities, finish options and price points. For those wanting a more progressive image we represent numerous private office furnishing products that offer contemporary styling. Real wood veneer, high pressure laminates, tempered glass, stainless steel, wood grain patterns, solid colors are but a few of the options available with our contemporary furnishing lines.

Traditional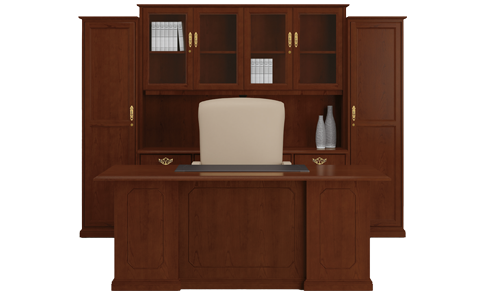 If you are looking for private office furnishings that fit a solid traditional style, we represent the leading manufactures in this category. Offerings range from basic desk configurations to high-end, world-class designs with wire front bookcase units, figured veneer cabinet and drawer fronts and leather inlaid desk tops. Our manufacturers provide traditional component options that accommodate modern technology so you can get the look you want without sacrificing functionality.

Transitional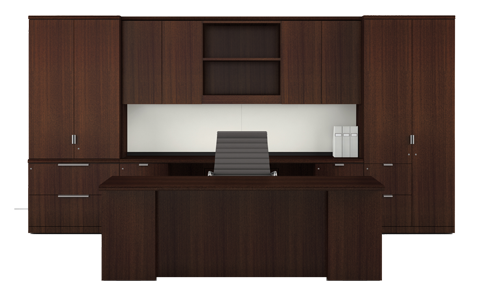 Transitional is the term that describes the style of furniture that bridges between contemporary and traditional. It is the most commonly used style of private office furniture and its styling enables the manufacturer to produce it more cost effectively than traditional furniture. Transitional furniture offers features that allows the user to create a look that ranges from contemporary to neutral to traditional by the choice of wood species, finishes, worksurface edge detail options and hardware selections. Our team will assist you in finding and selecting the right product and best combination of options to fit your functional, aesthetic and budgetary needs.

Reception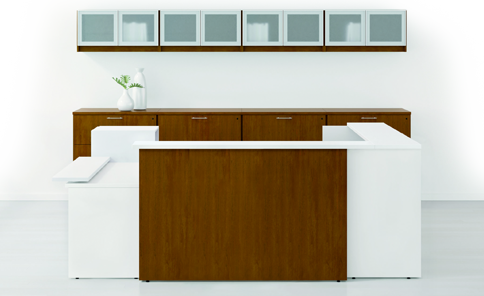 Your reception area gives your guests their first impression of your organization. Additionally, if you employ a receptionist, they have duties they need to perform which require various task tools within their workspace. We can assist you in the selection of the type, style and design solution that best fits your company's needs. From simple desking solutions to high image custom designed reception stations, our design team can provide you a wide array of choices.